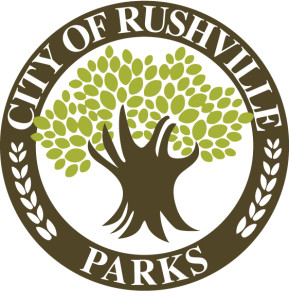 The Rushville Parks Department is responsible for the maintenance and upkeep of Rushville's six city parks. The Parks Director, along with the Street Department and seasonal help, maintain six parks within the City of Rushville as well as the walking trail and municipal swimming pool.
The Parks Department office is located at 119 West 16th Street, Rushville. You can contact the Parks Department by calling 765-932-4146, by fax at 765-932-4355 or by e-mail at parks@cityofrushville.in.gov.
Rushville Parks Department
VACANT, Director
119 W. 16th Street
Rushville, IN 46173
parks@cityofrushville.in.gov
765-932-4146
765-932-4355 (Fax)
A message from the Parks Department
Rushville has six beautiful parks and it is my sincere hope that local residents take advantage of them by making use of our shelter houses, picnic facilities, playground equipment or simply by enjoying spending some time outside.
Amenities vary from one park to another, but my staff and I do our best to maintain them to the best of our ability and to make sure they are as family-friendly as possible.
Our shelter houses can be reserved in advance by contacting City Hall at (765)932-3735. This includes the large, open-sided pavilion located in Riverside Park on the city's south side, which is home to our free concert series every summer. For more information on the concert series, visit Riverside Amphitheater Website.
In addition to the city's six parks, the Parks Department also operates and maintains Waggener Community Pool, Rushville's municipal swimming pool, which is located in North Veterans Memorial Park. The pool is open during the summer months and includes a large water slide as well as a concession stand.
I'd also like to invite everyone to make use of our walking and fitness trail, which starts near Main Street and North Veterans Memorial Park and makes its way south to Ninth Street in South Veterans Memorial Park. There's also a side trail that goes north from the main trail to near Rushville Elementary School. Eventually, we hope to expand it all the way to the Nature Center behind RES.
If you have any suggestions on how to make our parks better, please feel free to contact us.
Sincerely,
Parks & Recreation Department
Rushville City Parks

 

Veterans Memorial Park North is located within the Rushville Consolidated School Corporation Campus in northwestern Rushville. The high school, vocational school, elementary school, football stadium, basketball arena, baseball diamond, and lighted tennis courts are located on school and city property here. In addition to these facilities, the Parks and Recreation Department has a zero-depth access outdoor pool with locker rooms, sun deck, and concession stand; a covered shelter house, the Parks and Recreation Department offices, a lighted softball diamond, concession stands, lighted horseshoe courts, picnic areas, playground equipment, fitness walk trails and several small cabins.




South Veterans Memorial Park is located on Jackson Street between Ninth and Eleventh Streets. There is an enclosed shelter house, lighted basketball courts, large flower planters, restrooms, playground equipment, picnic tables, and a fitness walk trail.

Laughlin Park is located at Second and Spencer Streets; facilities include an enclosed shelter house, a basketball court, a concession stand, shuffleboard, picnic tables, restrooms, playground equipment, two lighted baseball diamonds, a lighted softball diamond, an unlighted T-ball diamond, and a large undeveloped area.




Wilkie Park is located on Main Street between Second and Third Streets. It is currently vacant, awaiting renovation and redesign. Conceptual rendering attached.

Riverside Park is home to Riverside Park Amphitheater which is home to six (6) FREE concerts a year. This facility can also be rented out for weddings, receptions, graduation parties and family reunions. There is a men and women's restroom on the premises. There are also two open shelter houses for picnics. During the summer months, May through August, there is a big tent also available for rent. Riverside Park also has walking trails through it. The park is a beautiful place to visit.

Carol Jenkins-Davis Park is located at 409 N Fort Wayne Road. The park features a labyrinth, walking trail, dog park, butterfly garden, and small orchard. The park is currently in its fourth year of a six-year development plan. By the end of 2022, the park will receive new sidewalk construction, parking lot renovation, installation of a pergola, introduction of artwork, and implementation of educational stations.

Carol Jenkins-Davis was a 20-year-old African American woman from Rushville with her whole life ahead of her. As a teenager, Carol wanted to move to Chicago and become a model and eventually a teacher. Yet, shortly after graduating from Rushville High School, in 1965, she got a job at the Philco Division of the Ford Motor Company. Carol worked there until a union strike temporarily shut the plant down. Looking to supplement her income, she took a job as a door-to-door saleswoman for Collier's, selling encyclopedias.  On her first day on the job, she was asked to travel to Martinsville, which at the time was known as a "sundown town."  Carol was murdered there in broad daylight on September 16, 1968 for no other reason than the color of her skin.  For more than 33 years the Davis family had to live with the fact that her killer had not been identified.  In 2002, thankfully that changed, although due to poor health, her killer would never see trial and would die a couple of months later.

At the dedication of the park, Pavey stated "Our redesigned park recognizes the value of Carol's life and ensures that her story will live as an opportunity to teach future generations the value of inclusion and diversity.  With her name on the park and picture on the sign, we hope our children and grandchildren will be inspired to ask, 'Who was Carol Jenkins-Davis?' 'What is her story?' and 'Why is the park named after her?' Those simple questions, coupled with a park focused on her legacy, will give parents and teachers an opportunity to educate their children as well as themselves on Carol's life and the history of Rushville."
Park Programs
Summer Camp in the Parks: This is a weeklong 6 hour a day long program offered by the Rushville Parks and Recreation department for children in between the ages of 6-10 years old.  This program offers those children both and educational and fun experience throughout the weeklong camp. Some of the programs offered during the weeklong camp are as follows: Rush/Shelby live wire program, Clean Green Recycle Day, Sports field day, Karate Demonstration, arts &crafts, public safety day, swimming at the pool and many other fun activities. Each attendee receives a water bottle, t-shirt and lunch is provided for the campers throughout the day.

Movie Night in the Parks: Rushville Parks and Recreation also offers Family Movie night in the Parks during the summer. Approximately once a month we utilize our outdoor movie system to show movies in the parks. This is a free program for our community members.

Swimming Lessons: The Rushville Parks & Recreation department offer swim lessons during the summer season as well. These swim lessons are held at the Rushville Waggoner Community Pool and are usually held 2nd or 3rd week in July. For more information, please contact the Waggoner Community pool after June 6th for further details.
Helpful Links:
· City of Rushville Parks Master Plan 2021-2025

·