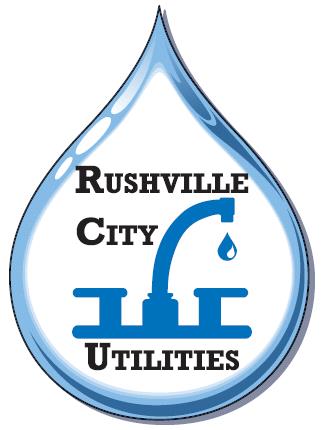 The City Utilities office is located at 330 N. Main Street, Rushville. Hours of operation are 8 a.m. – 4:00 p.m., Monday -Friday. You can contact the City Utilities office by phone at 765-932-4124, by fax at 765-938-3103 or by e-mail at utilities@cityofrushville.in.gov.
QUICK LINKS:
Pay your water bill online – Click Here!
2021 Consumer Confidence Report (CCR) – Click Here!
Rushville City Utilities Mission Statement
Our mission at Rushville City Utilities is to work vigilantly to provide a reliable, safe and plentiful supply of drinking water daily to our customers. We also strive to provide our customers excellent customer service and are committed to treating our customers with fairness, honesty and respect.
Rushville City Utilities History
Rushville City Utilities was established in 1894 under the name City Water, Light & Power Plant. This was a year after the first electric streetlights were turned on in 1893. Even though the waterworks was established in 1894, the first water and sewage lines were not installed until 1934 at a cost of $85,000. The first sewage treatment plant was not built until 1948 at a cost of $560,000. Before that time, people were connecting inside plumbing into drainage lines that flowed directly into Flat Rock River.
In 1975, the first major expansion of the sewage treatment plant was completed at a cost of $2 million. Upgrades to the sewage treatment plant were completed in 1995 at a cost of $2.5 million, thereby allowing the sewage plant to provide better treatment and increased capacity.
In 2005, a $3.5 million project added new water and wastewater service lines to a newly annexed area along State Road 3 and U.S. 52. To increase water storage and water pressure, a 300,000-gallon water storage tank was added to this area in 2010; the cost was $1.2 million.
The Rushville City Utilities financed a $5.2 million wastewater improvement project that was completed in 2015. This project will incorporate new technology along with more energy efficient equipment that has been in place since 1975. This project also is being designed so that a wet weather treatment facility can be added in the future.
Rushville City Utilities Employee Structure
The Wastewater Department is comprised of three employees: two operator/service personnel and one laboratory technician. The operators' duties include ensuring the wastewater treatment plant and processes are operating soundly and efficiently, collect samples and perform maintenance. The service personnel duties include responding to customer requests and maintenance. The laboratory technician performs all lab tests and data analysis.
The Customer Service Department is comprised of three employees: office manager, bookkeeper and customer service representative. The office manager provides billing, purchase orders, inventory and meter recording services. The bookkeeper provides financial, payroll and invoicing data. The customer service representative receives payments, service requests and assists customers.
The City Utility phone number is 765-932-4124. There is an answering machine for after-hour non-emergency calls. Emergency calls can be made to the Police Department at 765-932-3907.
Rushville City Utilities Board of Works
The Utility Board of Works meets at 5:30 p.m. every 2nd Tuesday of each month at the City Council Chambers at 330 N. Main Street, Rushville. The public is invited.
Helpful Links: